Regular price
$57.98
Sale price
$29.99
Unit price
per
Sale
Sold out
You're lounging around on your couch, watching your favorite TV show, but something is missing. You can't seem to find a comfortable position, and your traditional pillow just isn't cutting it. Well, have no fear because the giant wearable pillow is here, and it looks like a giant turtle shell!
The giant wearable pillow is a unique product that turns you into a giant turtle. It's perfect for teenage mutant ninja turtle fanatics, or anyone who loves a good quirky accessory.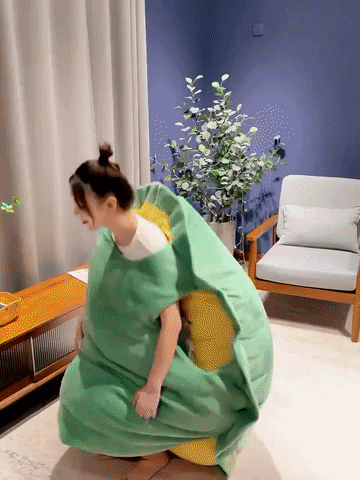 Comfort: The pillow is designed to be soft and supportive, providing a comfortable sleeping experience for people of all ages.
Versatility: The pillow is wearable, which means that it can be used not only for sleeping but also for lounging, relaxing, or as a fun costume accessory.
Privacy: The pillow's unique shape and size provide a sense of privacy and security, creating a cozy and secluded environment for its users.
Health benefits: The pillow's shape and support can help alleviate neck and back pain, improve posture, and promote better sleep quality.
Fun and playful design: The pillow's unique design is whimsical and fun, making it an appealing accessory for people who enjoy playful and lighthearted products.
Shipping

Yes! We ship worldwide and shipping is always FREE! Non-US customers are responsible for customs clearing/duties, and local taxation. International shipments may be subject to customs processing and additional charges, customs policies vary from country to country, therefore you should contact your local customs office for more information. When customs clearance procedures are required, it can cause delays in arrival. If you can normally order product from the U.S or China and have it shipped to you, then you can order in the same manner without any problems!
Return policy

We always put our customers first and do our best to resolve any issues that our customers may experience with their online orders. Any product you return must be in the same condition you received it, in the original
packaging, and must be within 30 calendar days of the delivery date. Please keep the email receipt. For more assistance, please send us an email and a customer support representative will be more than happy to help you out.
View full details